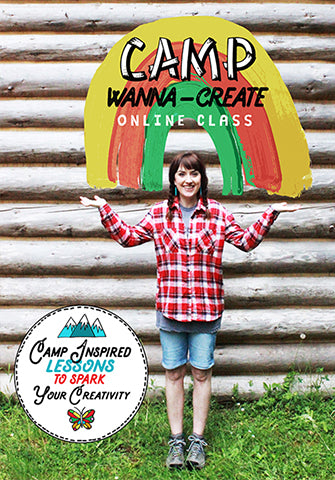 Back in my early twenties, I spent the summer teaching art a  Girl Scout camp way up high in the mountains. I lived in a tent that summer and taught art and craft projects all day to girls. It was one of the most creative and inspired times of my life because it combined two of my passions- the outdoors and art. As I began planning my summer class offering this year, I was inspired my camp experiences so I've put together a really fun class for all ages called Camp Wanna Create. It is an online class inspired by camp projects but with a totally unique and creative twist. From working on wood slices to photography to outdoor art journals and pinch pots and so much more- I've created a class with 10 lessons that will deliver inspiration and creativity all summer long!
Once you register and pay, within 24 hours you will receive an email confirmation with class information.
IMPORTANT-
All of my classes have unlimited access- once the class goes live you can create and access at any time and work at your own pace. There is no deadline or pressure to create.
WORKSHOP FACTS: 
Class costs $50

Class is structured into 10 lessons

Class will be held on a private blog that only registered students are able to access.  

YOU WILL HAVE UNLIMITED ACCESS once you register

Basic computer skills are needed (be able to login, access a blog, etc) 

There will be : LOTS of photos step by step visuals, video lessons of yours truly teaching and teaching in my studio.

A high speed connection is definitely recommended (because of the above!) 

Supplies needed are very simple, inexpensive art/craft items- (I strongly believe creating art should not cost a lot of money!!) 

Feel free to register at anytime.

No refund unless there are special circumstances.
Related Products
---