NEW! Watercolor Wonderland Virtual Retreat Dec 1-3rd
---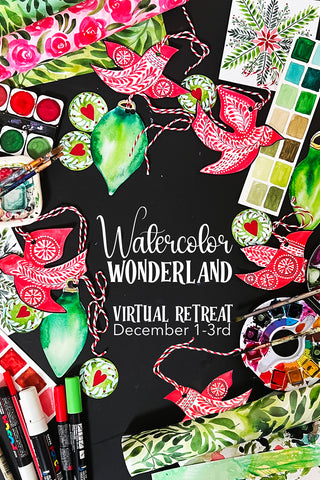 Escape to a world of festive creativity in my 3-day virtual art retreat, where we'll dive into using watercolors to create holiday magic! In this immersive retreat, I will be sharing how to use simple watercolor techniques to create  holiday tags, greeting cards, wrapping paper, paper ornaments and art that be given as gifts. I will lead your through a variety of watercolor techniques and tutorials and share inspiration for designing unique holiday-themed creations.
Discover the joy of personalizing your gifts and sharing the warmth of the season through your art.
In addition to the live experience, the cost of the class includes access to a private class website with lifetime access, recordings of our live sessions, three additional pre-filmed small tutorials, inspiration downloads/printables and a gift from Alisa sent to your home.

Don't miss this opportunity to celebrate the holidays with a brush in hand, virtually from the comfort of your own space. Secure your spot now and let your imagination sparkle as you craft heartfelt holiday artistry.
$125.00 Includes:

Live Zoom sessions for 3 days
Access to a private class website with lifetime/unlimited access.
Recordings of our live sessions posted to the website.
Three additional pre-filmed tutorials on the website to enjoy and work through at your own leisure.
Inspiration downloads/printables.
A creative and fun goodie bag sent to your home.
Please note- we have limited space available for this virtual retreat, if all spots are filled we will open up a waiting list.
Single day classes are not available.

Payment in full is required at the time of registration.

To register simply add the retreat to your cart. Once we receive your payment you will be sent a confirmation email within 24 hours. 
SCHEDULE

OPTIONAL- CANCELED AND MOVED TO FRIDAY MORNING AT 10AM
Thursday, November 30th
6-7:00pm PST- Welcome
Friday, December 1st
10am-12pm PST- morning session
1-2pm PST- creative group work time(optional)
2-4:00pm PST- afternoon session
Saturday, December 2nd
10am-12pm PST- morning session
1-2pm PST- creative group work time(optional)
2-4:00pm PST- afternoon session
Sunday, December 3rd
10am-12pm PST- morning session
1-3pm PST- share your work (optional)
3pm PST- end
Schedule may be subject to adjustments

My Teaching Style

I've been teaching art since 2004 and while I have a formal education in Fine Art, I love to break the rules! As a teacher, it's my mission to share simple techniques that artists of any level can use to create bold and colorful art. I also like to cram as much creativity as I possibly can into my classes. My goal is to inspire my students and provide new ideas, techniques, live demonstrations, one on one support and the space to make creative discoveries.
In addition to your confirmation email you will also receive an email as we get closer to the virtual event. This email will include additional details about the supply list, schedule/activities and access to the private website. If you have any questions about registration or payment you are welcome to send an email to alisaburke@gmail.com 
Supplies
NOTE ABOUT SUPPLIES: I don't typically have a required supply list for any of my classes because I always like to share a variety of different concepts that can be applied to a variety of supplies and surfaces when I teach. In this virtual retreat we will be working with watercolor paint and watercolor paper. Below are the basic supplies you will need to work along. As the date gets closer I will be sharing a detailed list on our class website.
To work along with the class you will need-
Watercolor paint- any brand will work
Paint brushes- Brand and quality do not matter but I recommend having at least one round brush (size 6-8) and one flat brush on hand but the more brush options you have the better!
Favorite pens, markers, pencils and crayons
If you have any supply questions feel free to reach out to alisaburke@gmail.com and we will assist in any way that we can!
Related Products
---