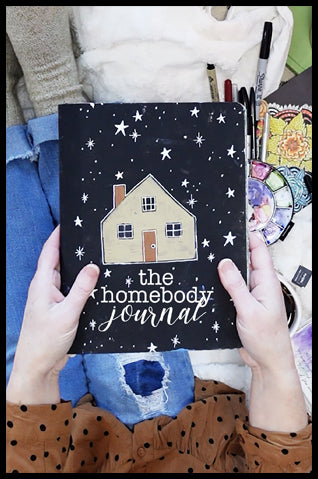 If there is one important thing that I've learned from all my years of making art, it's that creativity doesn't require you to travel to far away places, you don't need a studio, lots of money or fancy supplies. So often inspiration exists in our everyday lives.
With so many of us staying at home and simplifying our lives, I wanted to create a class where I share my favorite ways to use your home, your yard and the simple things in your day as fuel for creativity. My hope is show you that even when things are limited, there is still a world of possibility when it comes to art.
In this class we will be using an art journal to explore all kinds of prompts, mixed media techniques and exercises .
We will be working through 1 lesson a day for 30 days. I will be sharing all kinds of concepts-we will explore color inspired by your surrounding, expressive still life spreads, playing with pattern and texture found around your home, photo prompts, collage pages, using cracks in the sidewalk as inspiration for line drawings, doodles based on your routine, abstraction, illustration and more. 
My hope is to inspire you to find inspiration at home and in your everyday life!
homebody journal online class from Alisa Burke on Vimeo.
*****************************************************************************
Want to give this class as a gift? Let us know in the checkout notes and we will send you postcard to download, print and give.
*****************************************************************************
During this time of COVID19 it's been really important to me to offer discounts when I am able so this class will be marked down 50% during this hard time.
*****************************************************************************
The Homebody Journal is a  class structured into 30 inspiring posts. The concept is that you have one simple idea, prompt or technique to work through each day for 30 days.

Once you register and pay, within 24 hours you will receive an email confirmation with class information.
All of my classes have unlimited access- once the class goes live you can create and access the class at any time and work at your own pace. There is no deadline or pressure to create.
WORKSHOP FACTS: 
Class will be held on a private blog that only registered students are able to access.

You have unlimited access

 

to come and go as you please for as long as you like!
Basic computer skills are needed (be able to login, access a blog, etc) 

There will be : LOTS of photos step by step visuals, video lessons of yours truly teaching and teaching in my studio.
A high speed connection if definitely recommended (because of the above!) 
Supplies needed are very simple, inexpensive art/craft items- (I strongly believe creating art should not cost a lot of money!!) 
Feel free to register at anytime.
No refund unless there are special circumstances.
Related Products
---