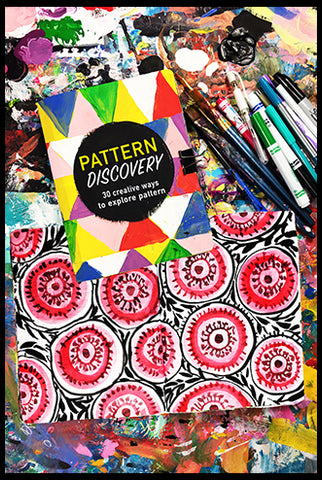 I am OBSESSED with pattern! In my own work I love using a variety of supplies, materials and techniques to fill all a surface with color and pattern.
In this class we are taking doodling and drawing to the next level and we are using all kinds of techniques, concepts and supplies to explore a pattern in a variety of different ways in your art journal.
I am sharing 30 creative techniques, prompts and exercises to get you playing around with pattern. We will explore color, repetition, shapes,  mark making, abstraction and design. I will be sharing a variety of simple techniques that will take your doodles to the next level.
PATTERN DISCOVERY ONLINE CLASS from Alisa Burke on Vimeo.
Once you register and pay, within 24 hours you will receive an email confirmation with class information.

All of my classes have unlimited access- once the class goes live you can create and access the class at any time and work at your own pace. There is no deadline or pressure to create.
WORKSHOP FACTS:
Pattern Discovery is a class structured into 30 inspiring posts. The concept is that you have one simple and creative idea, prompt or technique to work through each day for 30 days. I will be sharing all kinds of really simple, fun and creative exercises to get you doodling. exercises. The concept is that you have one simple idea, prompt, inspiration, technique to work through each day for one month. 
Class will be held on a private blog that only registered students are able to access. 
We will be working through 1 lesson a day for 30 days
YOU WILL HAVE UNLIMITED ACCESS once you register 

YOU WILL ALSO HAVE UNLIMITED ACCESS and be able to come and go from all 30 lessons once the lessons have all posted.
Basic computer skills are needed (be able to login, access a blog, etc) 

There will be : LOTS of photos step by step visuals, video lessons of yours truly teaching and teaching in my studio.
A high speed connection if definitely recommended (because of the above!) 
Supplies needed are very simple-a sketchbook or pad of paper, markers, acrylic paint (cheap will work great), watercolor paint (cheap will work great)
Feel free to register at anytime.
No refund unless there are special circumstances.
Related Products
---