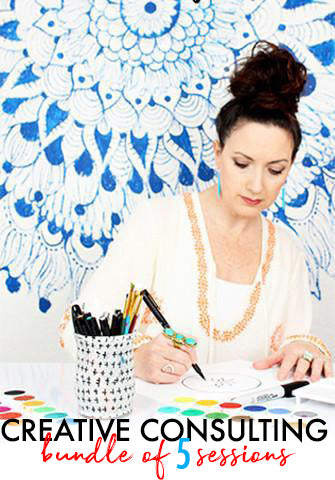 Need more time, feedback, strategy and accountability? This bundle includes 5 sessions bundled together at a discounted rate $400 (compare at $625).
I love helping other artists and entrepreneurs harness their potential! In fact offering feedback, advice, planning and strategy about creative business is one of my favorite things to do!
These sessions are for those of you who need inspiration to move forward, feedback on your art, marketing/branding advice, how to use social media, ideas and practical guidance for your creative goals. Over the years I've been asked all kinds of questions about building a business, making art, developing a unique style, earning income, teaching, writing a book, branding and more. And while I am not an expert, I do have over 20 years of experience making and selling art. While my business started small, today I run a successful six figure creative biz that supports our family and I have lots of knowledge, inspiration and ideas to share
Each one hour creative consulting session is all about you! After corresponding via email, we will schedule a Skype/Facetime/phone call that is customized for you. Each session will last for 1 hour (60 minutes) (with some flexibility) and I will address your needs, give your practical feedback, inspiration and ideas to move forward with your goals. Keep in mind I cannot guarantee changes for you, your art or your business but I can give you the jump start, ideas, steps, inspiration to go after the things that you are dreaming about.
Once you have purchased your bundle I will email you to set up schedule for us. If you have background, ideas and questions to discuss in advance, feel free to send them to me before we schedule our session.
If you have any questions before purchasing a consulting session feel free to email me at alisaburke@gmail.com
Related Products
---